Tucson Tech: UA Incubator Hosts Foreign Entrepreneurs
Arizona Daily Star
David Wichner
October 24, 2019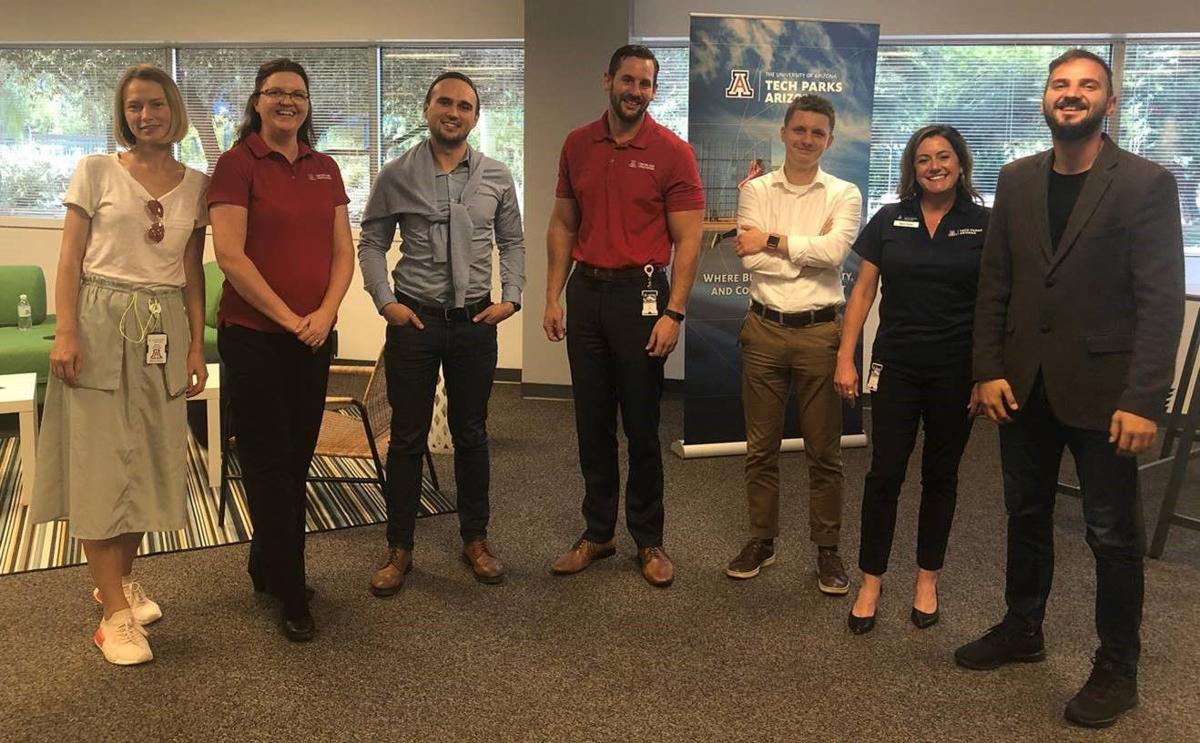 Four startup founders in the GIST program pose with officials of the UA Center for Innovation at the UA Tech Park. From left, Oksana Kononova, a startup founder from Ukraine; Anita Bell of the UACI; founder Yakau Buta of Belarus; UACI Executive Director Eric Smith; Anton Vashkevich of Belarus; Shari Kahn of UACI; and Tanzer Abazi of Kosovo.
The University of Arizona Center for Innovation is hosting four international startup company founders as part of a U.S. State Department program to help young tech entrepreneurs develop solutions to local problems. The business incubator at the UA Tech Park was one of 10 sites in nine states to host a total of 28 startups as part of the Global Innovation through Science and Technology (GIST) Initiative. The four startup founders placed with the UA arrived at the Tech Park on Oct. 14 to start a four-week program of customized business-development mentoring focused on cultural integration, U.S. customer discovery and market entry.
The pilot program, which also includes the Center for Entrepreneurial Innovation at Gateway College in Phoenix, aims to helps young innovators through networking, skill-building, mentoring and gaining access to financing.
The State Department was looking for established, university-connected incubators with capacity to support science or technology-based startups and a strong entrepreneurial ecosystem, the UA said.
The UA Center for Innovation was selected partly because of its UA ties and its Global Advantage program, which helps emerging international companies enter the U.S. market, and its market access to Mexico, said Eric Smith, executive director of the UACI.
"Through the Global Advantage program, folks at the Tech Park have been traveling the world, talking with growth-stage startup companies," Smith said. "You don't have to go to Silicon Valley, or Boston or D.C. Here in Tucson, you could have a lower cost of living, it's a quick ride over to Mexico and access to larger markets around us, without having to spend all your capital on home and car."
The four startups assigned to the UA under the GIST program, all from Eastern Europe, have already launched their products and are focused on opportunities in America, Smith said.
"What's nice about this program is, these companies have established a track record of success in their home countries, and they're ready to make U.S. market entry," Smith said. "We do hope that they would select Tucson as a place to create a base of operations for a U.S. presence — it's not required or guaranteed and it might take awhile, but it would be a wonderful outcome."
The GIST startups at the UACI are:
Contract One (founder Anton Vashkevich of Belarus), which has developed technology for multiteam contract work that structures contractual communication for more informed decision-making, better document control, and fewer errors;
FindBug (founder Tanzer Abazi, Kosovo) has built a platform that provides "digital penetration testing" that increases security up to 300% for digital infrastructures;
LOOQME, (Oksana Kononova, Ukraine) provides media monitoring and analytics solutions for public relations and communications in small- and medium-sized business research agencies;
StringersHub (Yakau Buta, Belarus) launched an online marketplace platform through which both freelance photojournalists – known as stringers — and eye witnesses of incidents can upload video for purchase by media outlets.
Last week, the four founders attended IdeaFunding, a day of startup sessions and business-pitch competitions organized by Startup Tucson and part of the 10-day TenWest Impact Festival.
StringersHub's Buta said he came away impressed by the event and the business pitches — along with full pockets.
"My pockets were full of business cards, and all week I was filling up on contacts," said Buta, who is spending much of his time in Tucson contacting local TV stations as possible media customers for the company's eyewitness video platform.
StringersHub already has 5,000 photojournalists and about 250 media outlets signed up and has worked with CNN and The Associated Press and has offices in Delaware and New York but wants to scale up in the United States, Buta said.
The GIST program carries no direct costs for the participating incubators, according to the State Department. Program partner VentureWell, a nonprofit focused on supporting student entrepreneurs, is covering most costs for the startups with the companies picking up the rest.