Tucson Tech: UA drug spinoff Reglagene aims to 'turn off' cancer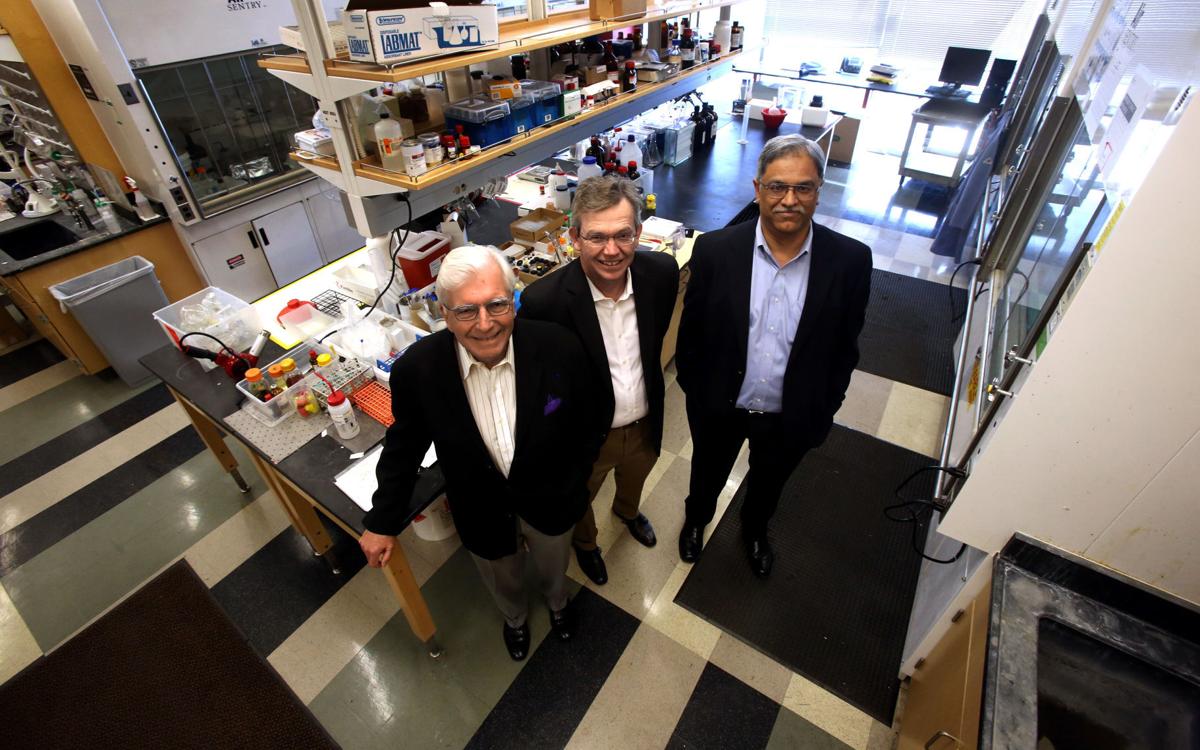 Laurence Hurley, Richard Austin and Vijay Gokhale lead Tucson biotech startup Reglagene, which is developing technology to "turn off" cancer cells.
A.E. Araiza / Arizona Daily Star 2017
Cancer therapies can send many cancers into remission, but all too often they become resistant to drugs and return to ravage patients.
University of Arizona technology spinoff company Reglagene aims to combat cancer's resistance to drugs with an approach that targets specific DNA structures in cancer genes known as quadruplexes, which regulate gene activity.
The company's technology is based on 20 years of work led by UA professor emeritus of medicinal chemistry Laurence Hurley, who came to the UA from the University of Texas in 2000 and has had a hand in taking several drugs to clinical trials.
Reglagene was co-founded in 2016 by Hurley, longtime UA research colleague Vijay Gokhale and pharmaceutical industry veteran Richard Austin.
The company was recently named the Tech Parks Arizona Startup of the Year, as part of the Tucson Metro Chamber's 2020 Copper Cactus Awards.
After efforts to advance the quadruplex technology stalled after reaching early clinical trials, Reglagene licensed the latest version of the technology from the UA in 2017.
Since then, the company has been conducting preclinical research to improve the technology, working with the UA, the Translational Genomics Research Institute (TGen) in Phoenix and a major Chinese biotech drug firm with a goal of starting clinical human trials by 2023.
"In cancer right now, the biggest issue is therapy resistance – too often, a patient goes back and their oncologist says, 'your cancer has returned, " said Michael Abrahamson, business-development manager for Reglagene. "We're working to make medicines work longer."
While many cancer drugs target cellular proteins, which are formed from DNA instructions, to disrupt cancer, Reglagene's DNA quadruplex "master switch" technology can "turn off" cancer cells by directly affecting the DNA, said Teri Chizue Suzuki, Reglagene's director of biology.
Earlier versions of the DNA quadruplex technology showed promise in treating cancer in early-stage clinical trials but also caused some undesirable side effects, said Suzuki, who holds a Ph.D. in biochemistry from the UA.
Reglagene has been working to refine the technology to hit only specific DNA quadruplex targets, to limit any side effects, Suzuki said.
"You want to hit only a few targets that you want to, but when you hit those other things you get toxicity and side effects," Suzuki said. "No drug is completely specific, but you really want to try and limit the off-target activities."
And because it targets DNA structures instead of proteins, Reglagene's drug candidate avoids resistance by attacking cancer "from different angles," she said.
Reglagene's long-term plans include licensing the cancer medicines it creates to pharmaceutical industry partners, to share future costs and product-development risk.
While the quadruplex technology affects DNA, it is not a form of gene editing, which can result in permanent changes — including any adverse effects, Abrahamson said.
Though Reglagene is now focused on cancer, the quadruplex technology could be used to treat other diseases, including neurodegenerative diseases like Alzheimer's, he added.
"It's a platform that you could definitely use for things completely unrelated to cancer, basically whenever you need to control how genes are expressed," said Abrahamson, a UA Ph.D. in pharmacy.
Reglagene has set itself up as a "virtual company," with research conducted at its small lab in Tucson, contracted UA facilities including its Functional Genomics Core and TGen, and at a partner site in Shanghai, China.
In February, Reglagene announced a research partnership with Shanghai-based Viva BioInnovator, the investment and incubation arm of Viva Biotech Holdings, which operates a major global drug-discovery platform.
Reglagene also is backed by investments from the Desert Angels, a local angel investment group, and has won research grants from the National Cancer Institute, the National Institute of Neurological Disorders and Stroke, the Flinn Foundation, and the Arizona Commerce Authority.
NUVOX TACKLES COVID-19
In other local drug-development news, Tucson-based NuvOx Pharma has been given the go-ahead by Canadian health authorities to conduct a Phase IIa clinical trial to study the effectiveness of its flagship drug technology to treat COVID-19 patients suffering from respiratory failure.
Founded by UA radiologist and Arizona Cancer Center member Dr. Evan Unger, NuvOx has developed therapies using gas "microbubbles" to carry oxygen to tissues or organs and is in advanced clinical trials for the treatment of stroke and brain cancer.
Acute hypoxic respiratory failure and the more-severe acute respiratory distress syndrome are linked to low blood oxygenation, and the latter is the major cause of death in COVID-19 patients, Unger said.
NuvOx already has data from several animal models showing the company's Nan02 emulsion restored oxygen levels in diseased or damaged lungs, while the drug has been shown safe in the human trials for stroke and brain cancer, he noted.