Tucson Tech: Longtime laser developer moves to UA Tech Park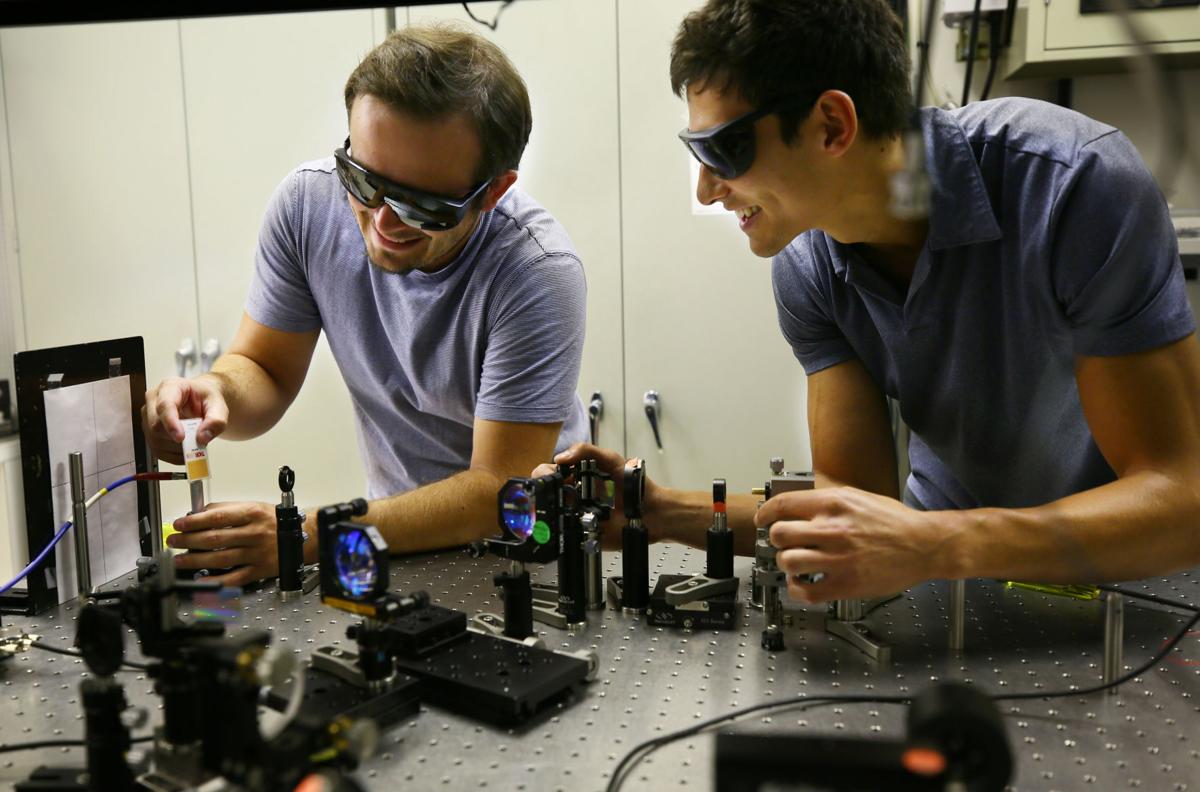 Marco Colpo, left, and Tristan Simi make adjustments on a test bed at Applied Energetics in Tucson in 2019., Rick Wiley / Arizona Daily Star
Longtime Tucson laser and directed-energy technology developer Applied Energetics Inc. is relocating its corporate headquarters to the University of Arizona Tech Park on South Rita Road.
The company said the move, expected to take place over the next two months, will support future growth with greater capacity for research, product development and production.
Applied Energetics has had its corporate headquarters on West Ruthrauff Road and technical facilities on the south side and plans to consolidate those functions at the tech park.
The new 13,000-square-foot space provides the company, which serves both defense and commercial markets, with a facility that is compliant with international arms-control regulations and laser-safety rules and includes a 4,800-square-foot, Class 1000 cleanroom.
Applied Energetics said it will benefit from millions of dollars of capital investment made by space's previous occupant, Coherent/DILAS, a global provider of laser technology for scientific, commercial, and industrial customers.
Applied Energetics CEO Gregory Quarles said the move triples the company's footprint and eliminates the downtime involved with a full facilities build-out.
"This facility, with its research labs and state-of-the-art cleanroom, is perfectly suited and move-in ready to align with our defense and production road map," Quarles said in announcing the move.
The company joins more than 60 other tech firms at the 1,300-acre UA Tech Park, including Raytheon Missiles & Defense and IBM.
Founded in 2002 as Ionatron Inc., Applied Energetics won nearly $40 million in U.S. military contracts to develop its laser-directed energy technology to defeat improvised explosive devices or IEDs, and developing special lasers for the Navy.
After failing to land a major production contract, the company suspended its business activities in 2014 and became a "shell company" under federal securities rules.
In 2017, Applied Energetics emerged from its shell to raise $5 million to restart its development of ultra-short-pulse lasers for defense and commercial uses.
The company acquired Applied Optical Sciences, another laser tech company founded in 2010 by an Applied Energetics co-founder, in 2019.
UACI STARTUP WINS GRANT
SGNT Inc. a startup housed at the University of Arizona Center for Innovation has received a $749,000, follow-on Small Business Innovation Research grant through the National Science Foundation to advance its anti-tampering technology for product packaging.
The grant will continue the company's work under a $224,470 Phase I SBIR award issued in 2019.
SGNT, which was founded by CEO Emil Tremblay and Chief Operating Officer Tommy Rompel, has developed a system that can monitor the integrity of packaging and report any tampering via radio-frequency identification and a smartphone app first released in 2019.
The product is aimed at reducing the financial loss from product counterfeiting and tampering, especially for pharmaceutical and defense-related products.