Raytheon: Tucson expansion to emphasize higher-wage jobs
Joe Ferguson and David Wichner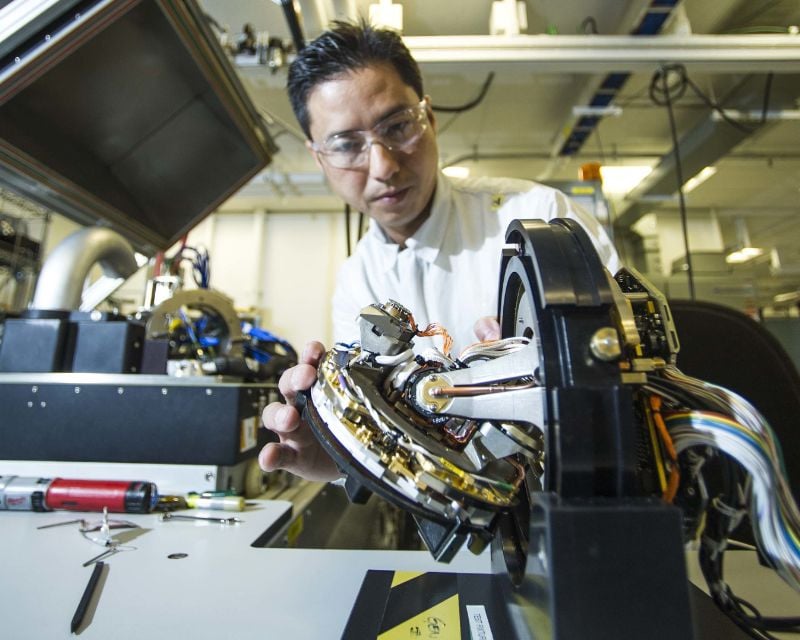 Tucson-based Raytheon Missile Systems plans to expand its Southern Arizona operations and add nearly 2,000 jobs over five years, potentially adding billions of dollars to the local economy.
Raytheon announced the expansion Friday, after reaching tentative agreements with officials of the city, county and state on potentially tens of millions of dollars in tax breaks and related incentives.
The Tucson City Council on Friday morning signed off on an agreement with Raytheon — already the area's largest private employer with more than 10,000 local workers — that will allow the company to build on city-owned land near its airport operations.
A city council vote is expected Tuesday on an amended annexation agreement and potential tax incentives.
Also on Tuesday, the county board of supervisors will consider a number of its own incentives, including support for the company's application for a free-trade zone designation, which would reduce Raytheon's property tax burden by about $16 million over the next 10 years.
The county incentive package also includes support for additional road infrastructure projects and restrictions on county-owned land adjacent to Raytheon. Supervisor Sharon Bronson told the Star Friday that the measure has her vote and expects it "to be approved."
The state has offered Raytheon $5 million through the Arizona Commerce Authority's deal-closing fund, known as Arizona Competes, authority spokeswoman Susan Marie said.
Details of that deal are still under negotiation, Marie said, but she noted that funds are conditioned on applicants hitting certain hiring and wage goals and are paid out incrementally as they hit certain milestones.
Raytheon said it plans to hire workers at all skill levels, with an emphasis on engineering and other higher-wage, technical positions.
Job creation, facilities expansion and production is expected to result in billions of dollars of economic impact for Arizona over 10 years, the city said. The additional property taxes that activity generates "will be dramatically more" than the taxes the county forgoes as a part of its proposed incentive deal, County Administrator Chuck Huckelberry wrote in a memo to the board Friday.
The company has seen renewed growth in its missile programs due to U.S. and allied demand for its products, which include the Tomahawk cruise missile, the AMRAAM and Sidewinder air-to-air missiles and the Standard Missile series of ship-defense and ballistic-missile interceptors, Missile Systems President Taylor Lawrence said in a conference call today.
He credited local and state officials with helping Raytheon to grow by establishing a buffer area around the company's plant on the south side of Tucson International Airport and working to create a competitive incentive package.
"The strong support we receive from state and local organizations is essential to our expansion plans, and will help provide Raytheon with the workforce and infrastructure to meet the growing demand we are seeing from our customers," Lawrence said.
Besides the city, Raytheon said its partners in the expansion initiative include Gov. Ducey, the Arizona Commerce Authority, Pima County, Sun Corridor Inc., Tucson Electric Power and the Tucson Airport Authority.
On a conference call with Gov. Doug Ducey, Lawrence said details on the pace of hiring and the programs the company plans to grow or add will come later.
But he said the company has seen growth across its 20 "franchise" weapons programs and is in contention for some major new programs, such as development of hypersonic missiles.
"We're expecting a number of competitions to be decided this year," Lawrence said. "We're kind of growing across the board."
Lawrence praised local and state officials for responding to Raytheon's concerns after the company passed over Tucson in 2010 and chose Huntsville, Alabama, as the site of a new missile plant.
That decision was made because of the lack of adequate buffer space around Raytheon's airport plant and because Alabama offered a generous incentive package, Lawrence said.
After the city, county and airport worked to relocate a road south of Raytheon and swapped land to create an aerospace business park nearby, the buffer issue has been "completely resolved," Lawrence said.
Ducey called the Raytheon expansion a big win for the state and the latest example of a rebounding Southern Arizona economy, citing hundreds of new Tucson-area jobs announced by Comcast, Caterpillar, HomeGoods and human-resources systems provider ADP.
"This is great news and just more proof that Southern Arizona's economy is on fire," Ducey said.
Tucson Mayor Jonathan Rothschild said some aspects of the city's deal are still being negotiated with defense contractor. However, a final council vote is scheduled Tuesday night.
"What we are hoping to do on Tuesday is bring to Council an agreement with Raytheon that would enable Raytheon to bring an additional 1,900 jobs, at least, to Tucson," Rothschild said.
As a result of the deal, the company could spend upwards of $400 million in new construction on city-owned land near Tucson International Airport, Rothschild said.
"It is a complicated deal so we will be working over the weekend to finalize the tight language," he said.
The mayor says he hopes Raytheon will build as soon as possible and expects Raytheon to break ground next year.
The amended agreement will extend the time frame of the current annexation agreement and tie tax incentives to Raytheon's completion of the expansion project and creation of the new jobs, said Mike Rankin, the city attorney.
Besides the funding offered through the state's deal-closing fund, Raytheon also apparently qualifies for a refundable state income tax credit available to companies making capital investments to build or expand certain facilities, Marie said, but the company has not yet applied for that program.
The company has major manufacturing operations at its headquarters site next to Tucson International Airport and at the University of Arizona Tech Park on South Rita Road.